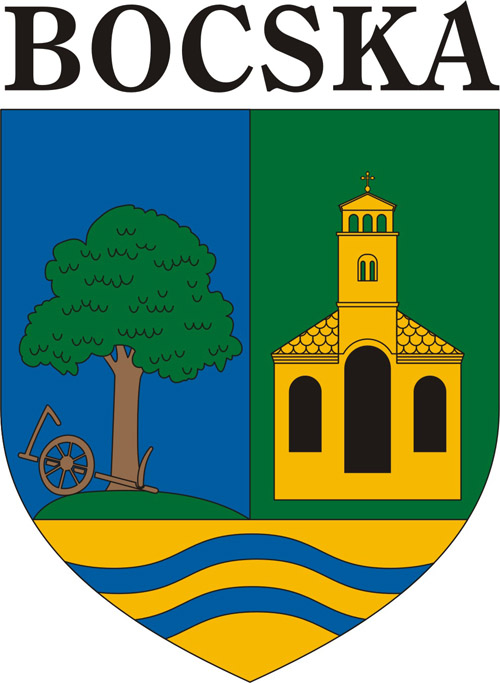 Bocska község címere
(Zala megye)

Bocska község Zala megyében, a nagykanizsai kistérségben.
Címere álló csücsköstalpú pajzs, melyet hasítás és a pajzstalpban vágás oszt három mezőre.
Első kék mezejének zöld halmán természetes (barna) törzsű zöld lombozatú fa magaslik. Tövében jobbról természetes (barna) színű eketaliga helyezkedik el. A második zöld mezőben stilizált egytornyú arany templomépület lebeg fekete kapu és ablaknyílásokkal. Aranycserepes tetőzete fölött a torony csúcsán arany latin kereszt.
A pajzstalp arany mezejében két párhuzamos, hullámos kék szalag fut. A pajzs felső éle felett, annak szélességében fekete betűkkel a "BOCSKA" felirat jelenik meg.
The Coat-of-Arms of the Village of Bocska
(The County of Zala)

Bocska is a settlement located in the small region of Nagykanizsa in Zala County. Its coat of arms is a shield erect and tiercy, its base is curved to a point. In chief and fess party per pale, in base party per fess.

In field azure on a mound vert the charge of a tree is borne, trunked proper (brown) and leaved vert. At its trunk on the dexter side a ploughshare proper (brown) is borne. In field vert the stylised depiction of a single-towered church or is borne encouped. Its gate and windows sable. Roof or and above it a Latin cross or.

In base or two wavy bendlets are borne, azure. Above the upper edge of the shield the settlement's name BOCSKA is inscribed in letters sable.