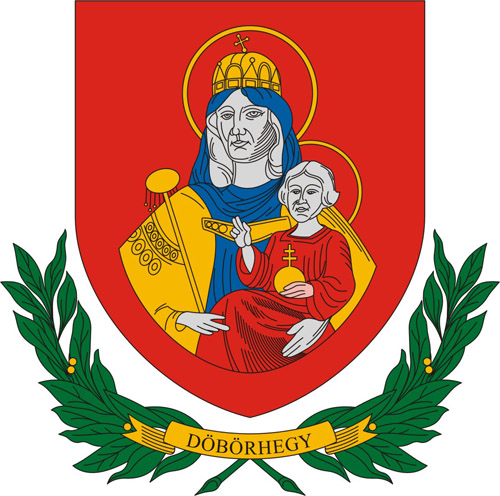 Döbörhegy község címere
(Vas megye)

A Magyarok Nagyasszonya, a helyi templom titulusa.
Így ezen szent alak került címerbe emelésre.
A csücskös pajzs, bíbor felületén két színű kendőt viselő ezüstös testű nőalak lebeg, Fején az arany szent korona. Kezében a jogar, másik kezével a kis Jézust szorítja magához. Vállát a koronázási palást takarja.
Az ezüst testű, piros ruhát viselő kis Jézus kezében országalma díszlik.
A címerpajzsot alul olajágak keretezik, arany szalaggal összefogva, névfelirattal.


The Coat-of-Arms of the Village of Döbörhegy
(The County of Vas)

The local church was erected to honour the Virgin Mary, the patron saint of Hungary. This is why the figure of the Virgin Mary appears as the main charge in the settlement's coat of arms.

Shield erect and purpure, its base is curved to a point. The figure of the saint is tinctured argent, her head is covered with a scarf azure. In her hand she is holding a sepulchre, with the other hand she is holding the holy child. Her shoulder is covered with the coronation robe.

The holy child is tinctured argent, habited gules and in his hand he is holding the orb.
Below the shield olive branches, bound by a ribbon or. Below the shield the settlement's name DÖBÖRHEGY is inscribed.