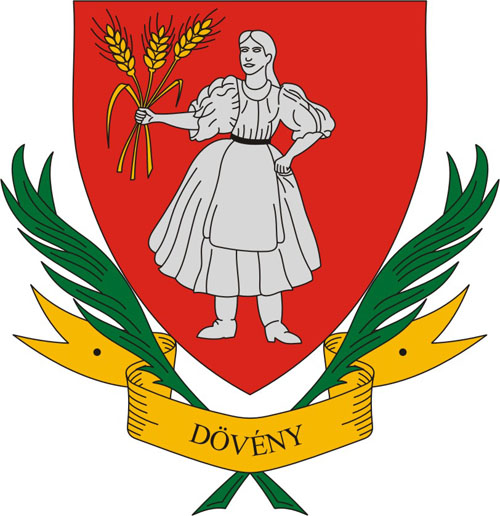 Dövény község címere
(Borsod-Abaúj-Zemplén megye)

Álló, háromszögletű, vörös színű katonai pajzs, amelynek mezejében jobbjában arany búzaszálakat tartó, ezüst lányalak lebeg. A pajzstartó mindkét oldalon egy-egy zöld pálmaág. A pajzs alatt szalag lebeg DÖVÉNY felirattal.

Dövény feudális kori pecsétjének ábrája pálmalevelektől kísért három búzaszál.
Dövény neve szláv eredetű és benne a ,,leány" szó szláv változata búvik meg. A községnév szerepel a címerpajzson, leány alak formájában e kiegészítő elem mellett megtartottuk a pecsétábra motívumai is, bár más-más módon: a búzaszálak a pajzsban maradtak, míg a pálmalevelek címertartókká alakultak. E két növény egyébként a földi-anyagi és a lelki-szellemi értékekre utal.

The Coat-of-Arms of the Village of Dövény
(The County of Borsod-Abaúj-Zemplén)

Triangular military shield erect and gules. In field gules a female figure is borne encouped and argent. In her dexter hand she is holding ears of wheat, or. Supporters are palm leaves, vert. Below the shield a ribbon is borne encouped with the settlement's name DÖVÉNY inscribed in it.

Dövény's medieval seal featured three ears of wheat and surrounding palm leaves.

The name of the settlement is a word of Slavic origin and it used to mean 'girl'. This feature appears in the settlement's contemporary coat of arms, since it has a female figure in it. The traditional charges of the settlement's old seal have also been kept in Dövény's coat of arms, although their position has been somewhat altered. The ears of wheat are borne within the shield and the palm leaves appear as supporters. These two plants are references to earthly-materialistic as well as to spiritual-inner wealth.