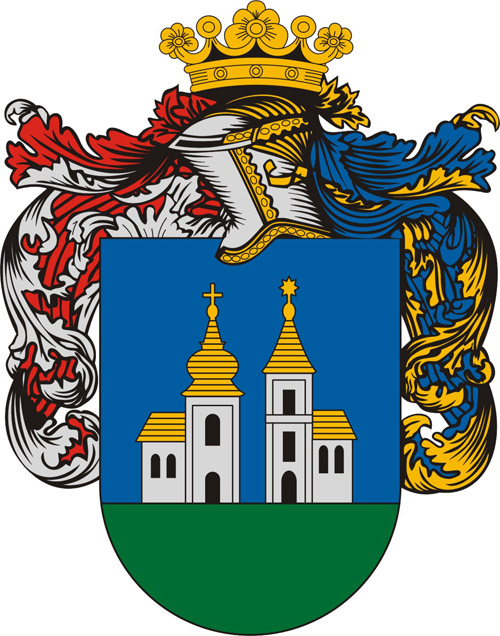 Egyházasrádóc község címere
(Vas megye)

Egyházasrádóc község címere: kék színű dombor pajzsban, zöld talajon álló, ezüstszínű jobbról kereszttel, balról a reformátusok rózsájával ékesített, arany tornyú templomok állnak. A pajzson ezüst és aranyszínű nemesi sisak, fölötte aranyszínű lombos nemesi korona, mindkét oldalán szalagfoszlányok díszítik. Jobb oldalon a szalagok színezete ezüst és piros, bal oldalon arany és kék.

The Coat-of-Arms of the Village of Egyházasrádóc
(The County of Vas)

The coat of arms of the village of Egyházasrádóc can be described as follows:

Spade shield erect and azure. On ground vert ecclesiastical buildings are borne. The spires of the church buildings are tinctured or. On the dexter side they are decorated with a cross argent, on the sinister with the Lutheran rose. Shield is topped by a nobiliary helm argent and or, above it a verdured nobiliary crown or. On both sides shield is topped by mantling, on the dexter argent and gules, on the sinister or and azure.