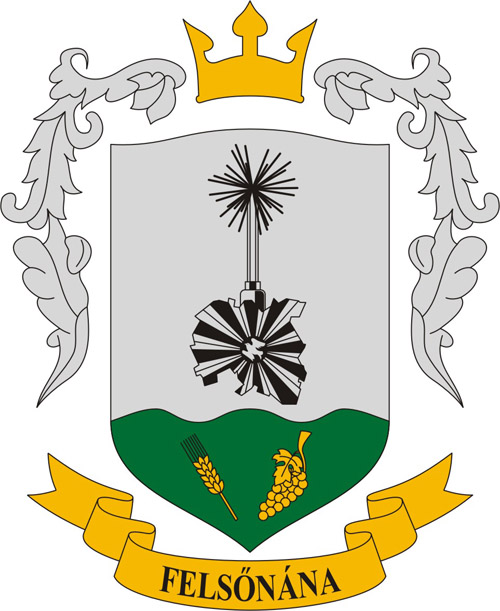 Felsőnána község címere
(Tolna megye)

A címer kettes osztatú, alsó rész zöld, a Tolna-Somogyi Hegyhátat is jelenti a domboldalakkal. A zöld mezőben található aranyszínű búza a mezőgazdaságból élőket jelzi, a szőlőt a régi pecsétnyomóból adaptáltuk.
A felső ezüstszínű mezőben a 17 éve folyamatosan a településen rendezett találkozó emblémája, lógója látható: Tolna megye térképe békegalambbal, fekete, fehér sugarakkal. Ezen helyezkedik el Juhos László szobrászművész alkotása Tolna megye geometriai középpontján.
A címer felett egy aranyszínű korona, amely utal a település korábbi nevére: KIRÁLYNÁNARA. Ezt egy ezüstszínű palást övezi.
A település felirat díszes, ún. fecskefarkú aranyszínű szalagra került fekete, jól olvasható betűkkel.

The Coat-of-Arms of the Village of Felsőnána
(The County of Tolna)

Shield erect and party per fess. Base is tinctured vert and it is a reference to the hilly Tolna-Somogy area with its undulating landscape. In field vert an ear of wheat , a charge, which symbolises the local inhabitants, who have always lived from agriculture. The charge of the grapes in Felsőnána's coat of arms was taken over from the settlement's old seal. Both charges are tinctured or.

In chief argent the emblem of a 17-year old local event is borne, including the silhouette of the map of Tolna County decorated with the dove of peace. This charge is adorned with rays sable and argent. The emblem is a copy of a work of art by sculptor László Juhos, which can be found in the geometrical centre of Tolna County.

Above the shield a crown or, which is a reference to the settlement's former name of Királynána. Shield and crown are embraced by mantling argent.

The settlement's name is inscribed on a swallow-tailed ribbon or in clear, capital letters.