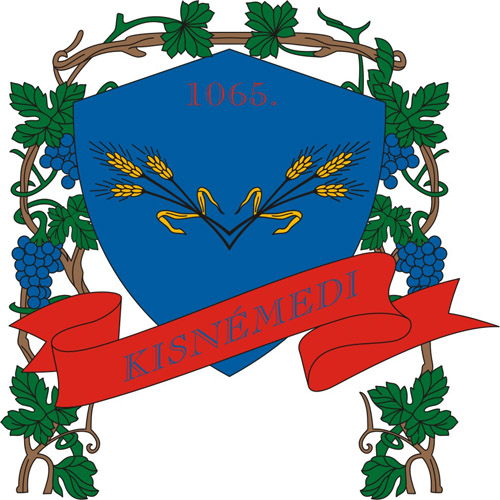 Kisnémedi község címere
(Pest megye)

Álló, háromszögű pajzs kék mezejében, a hasítás vonalában töveikkel találkozó 3-3 arany gabonakalász lebeg, jobb és bal haránt irányban széthajlóan.
A kalászcsokrokat két-két aranyos levél díszíti.
A kicsúcsosodó pajzsfőben az 1065-ös évszám látható vörössel.
A pajzstalpot balharánt irányban négyszer hajtott vörös szalag takarja, rajta kékkel a KISNÉMEDI felirat.
A pajzs két oldalán leomló foszlányok bíbor fürtökkel megrakott zöld leveles szőlőlugast mintáznak.

The Coat-of-Arms of the Village of Kisnémedi
(The County of Pest)

Triangular shield erect, party per pale and azure. In pale three ears of wheat are borne on both sides, leaning outward and with their stems touching. The bunches of wheat are decorated with two leaves respectively, or.
In pointed chief the date 1065 is borne, gules.
Base is diagonally covered by a ribbon gules, folded into four and decorated with the inscription of the settlement's name KISNÉMEDI inscribed in letters azure.

On both sides of the shield mantling purpure, resembling a green-leaved vine arbour.