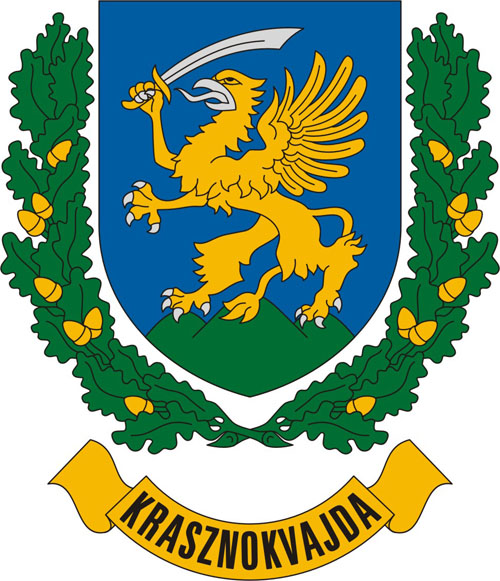 Krasznokvajda község címere
(Borsod-Abaúj-Zemplén megye)

Álló, háromszögű pajzs kék mezejében hármas zöld halom, két szélsőjén ágaskodó, jobbra fordult, ezüsttel fegyverzett arany griff. Felemelt jobbjában arany markolatú és védvasú, ezüst pengéjű szablyát tart, balját ragadozásra nyújtja. A címerpajzsot két oldalról egy-egy, szárukon alul keresztbe tett hét-hét arany makkterméssel ékített zöld tölgykoszorú övezi. A címer alatt lebegő, hármas tagolású, íves arany szalagon feketével nagybetűs KRASZNOKVAJDA településnév.

The Coat-of-Arms of the Village of Krasznokvajda
(The County of Borsod-Abaúj-Zemplén)

In field azure of a triangular shield erect a triple mound vert is borne. On the side mounds a griffin or, armed argent, rampant. In its raised dexter holding a scimitar bladed argent, tilted and crossbarred or. Its sinister is stretched in search for prey. The shield is flanked on both sides by an oak wreath droned with seven acorns or, the stems are crossed. Below the coat-of-arms on a triple sectioned swallow tailed concave scroll or the motto KRASZNOKVAJDA is borne in majuscules sable.