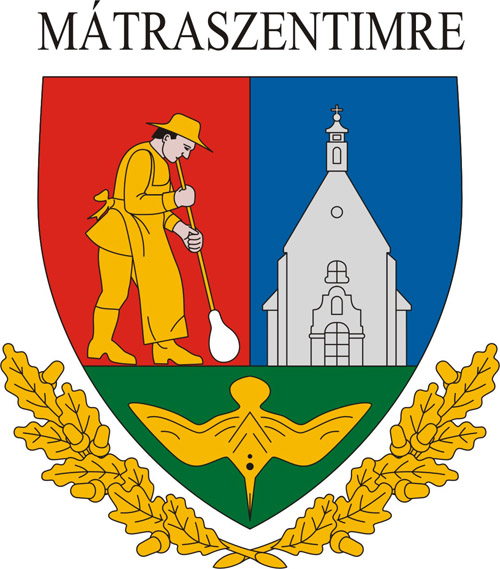 Mátraszentimre község címere
(Heves megye)

Pirossal és kékkel hasított, zölddel vágott talpú háromszögpajzs, jobb oldalán egész álló, arany emberi alak; balra hajló, bal lábával előre lépő üvegfúvó, csöve végén ezüstszínű üveget fúj; arca és kezei testszínűek.

Bal oldalán a települések szembenézeti, ezüstszínű temploma áll; fölötte a mező jobb sarkában egy ezüstszínű hópehely, bal sarkában kettő.
A zöld talpban kitárt szárnyú arany szalonka - felülnézetben - csőrével lefelé lebeg.

Alul két makkos-leveles tölgy ág, vágott részük egymáson keresztben fekszik.
A település neve a címerpajzs felett talpas antikva betűvel fekete színnel jelenik meg.


The Coat-of-Arms of the Village of Mátraszentimre
(The County of Heves)

Triangular shield erect, party per pale gules and azure, base party per fess vert. In dexter field a foll-bodied human figure is borne, or. Man is bending toward the sinister, with his sinister foot stepping forward and blowing a glass, argent. Face and hands are tinctured proper.

In sinister field the frontal depiction of the building of the settlement's church. Above it in the dexter corner of the field a snow flake argent. In the sinister corner two snow flakes are borne, also argent.

In base vert a longbill or is borne encouped, its wings are widespread, with its beak bird is turning downward.

Below two oak branches vert, leaved and acorned are borne crosswise. Above the shield the settlement's name is inscribed in Antiqua letters, sable.