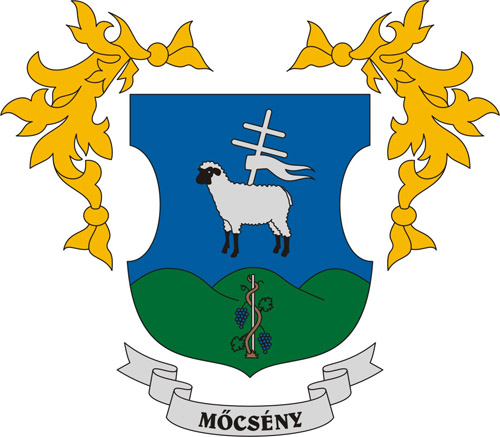 Mőcsény község címere
(Tolna megye)

A címer pajzsot két ellentétes színpárral - kék és zöld – van két részre osztva. A pajzs osztott, alul íves, amely a dombságot szimbolizálja.
A felső kék alapon ezüst színben az egyházi szimbólum, Isten Báránya látható, ez a hagyomány tiszteletét , a korábbi pecsétnyomó állatfiguráját szimbolizálja. Az alsó zöld mezőn szintén a korábbi Zsibrik település pecsétnyomójáról származó szőlő- tőke található.

The Coat-of-Arms of the Village of Mőcsény
(The County of Tolna)

Shield erect and party per fess azure and vert. Shield is partitioned and base is curved, a feature, that evokes the hills which are found in the vicinity of the settlement.
In chief azure God's lamb is borne, a religious symbol, tinctured argent.This charge symbolises the respect of traditions, and, at the same time, it also recalls a motif from the settlement's former seal. In base vert a vinestock is borne, a charge, which was taken over from the seal of the former settlement of Zsibrik.