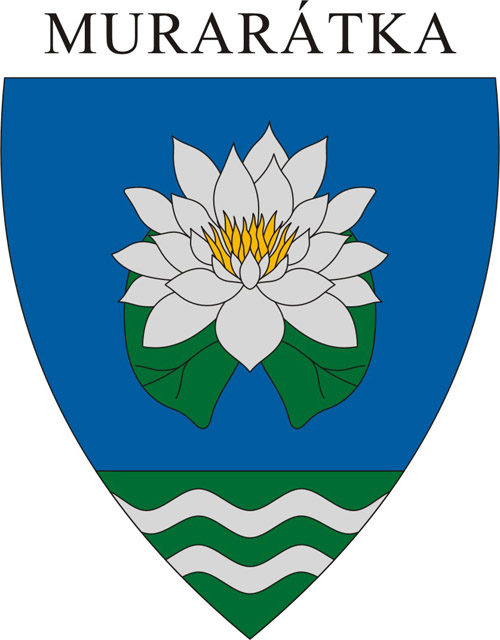 Murarátka község címere
(Zala megye)

Háromszögű pajzs kék mezejében természetes zöld pajzsláb, benne két fehér hullámos pólya, mely felett természetes zöld levelű fehér tündérrózsa lebeg.

A pajzs felett fekete betűkkel lebegő "MURARÁTKA" felirat látható.

Murarátka igazi vonzerejét értékes környezete, a természeti táj szépsége, érintetlensége, a településen élő emberek kedvessége, vendégszeretete jelenti. Hegyi kápolnája mellől csodálatos kilátás nyílik a Mura völgyére. A községet ma is sűrű erdők veszik körül a jellegzetes dombos zalai lankákon.

Murarátka jelenkori címerének kék háromszögű pajzsára a község védett virága a fehér tündérrózsa került. A virág és a kék szín együtt szimbolizálja azt az egészséges levegőjű tiszta falut, ahol ez a védett virág képes élni és szaporodni. Ugyanakkor figyelmeztet is bennünket arra, hogy ezt a környezetet nem kihasználni, hanem óvni és védeni kell.

A természetes zöld pajzsláb a benne lévő két hullámos pólyával a község nevében is szereplő Mura folyó szimbóluma.


The Coat-of-Arms of the Village of Murarátka
(The County of Zala)

Triangular shield erect and azure. In base vert two wavy bends, argent. Above them the charge of a water lily is borne encouped, argent and leaved vert.

Above the shield the settlement's name MURARÁTKA is inscribed encouped, in letters sable.

The main attraction of Murarátka is the settlement's nice surroundings, its untouched natural beauty as well as the friendliness and hospitality of its inhabitants. From the village chapel, which was built on a hilltop, an extraordinarily beautiful panorama opens onto the Mura valley. The village is surrounded by deep forests that cover the undulating landscape, so typical of Zala county.

The settlement's present-day triangular and blue coat of arms features the village's protected plant, the white water lily. The flower as well as the shield's tincture azure symbolise the cleanliness of the village and its air. The protected plant can only grow and propagate under such conditions. At the same time, this motif is also a warning that we need to protect our environment.

The green base with the two wavy bends argent symbolise the Mura river, which runs through the settlement.