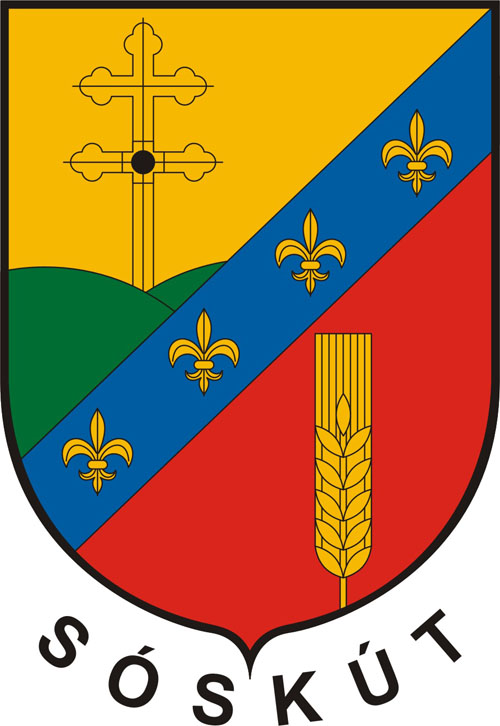 Sóskút község címere
(Pest megye)

Csücsköstalpú pajzs, haránt kék pólyával osztva. (A bemutatott kék pólya a kivitelnél feltétlenül legyen világosabb, egyezzék meg a zászló színével). A jobb arany mezőben zöld kettőshalom völgyéből kinövő fekete kontúros kettőskereszt. (A 18. század első feléből származó görögkeleti kereszt, amely egykor templom tetején vojt, jelenleg a ravatalozó tornyán található). A bal vörös mezőben 11 magú, lebegő, arany búzakalász, A kék harántpólyán négy arany Anjou-liliom elhelyezve. Emlékéül annak, hogy Sóskutat Róbert Károly király fia születése alkalmából adományozta a hírvivőnek. Ez a fiú a későbbi Nagy Lajos király.

The Coat-of-Arms of the Village of Sóskút
(The County of Pest)

Shield erect, its base is curved to a point. Borne crosswise a bend azure. (The tincture of the bend is identical with the colour of the local flag). In dexter field or two mounds vert, from which a patriarchal cross is issuing, contoured sable. (The motif of the patriarchal cross goes back to the first half of the 18th century, when it used to decorate the spire of the local church. Today the cross can be seen on the top of the local funeral home.) In sinister field gules an ear of wheat or is borne encouped, with 11 grains in it. In the bend azure four fleur-des-lies, all or, are borne. This motif is a reminder of the historical fact, that the village of Sóskút was bestowed by the Angevin king, Charles Robert on the royal messenger, who broke him the news of the birth of his son. His son would become one of the greatest kings of Hungarian history, Lewis the Great.