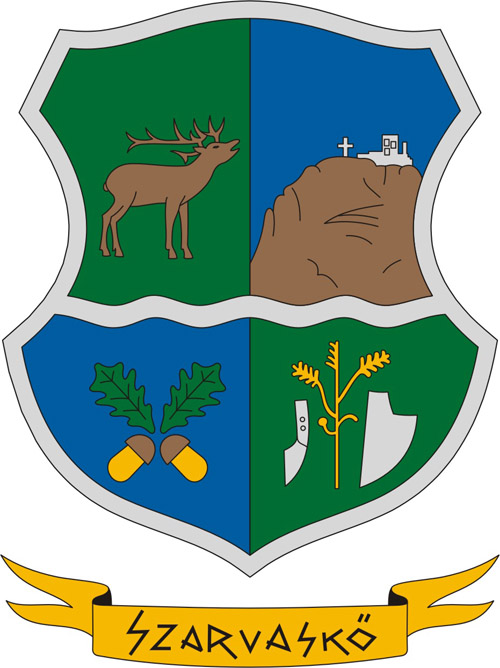 Szarvaskő község címere
(Heves megye)

Szarvaskő község címere álló, vágott oldalú, csücskös pajzstalpú, ívelt, két oldalon szimmetrikusan letört pajzsfőjű, többszörösen osztott, ezüst sávval szegélyezett pajzs. Vízszintes osztás egy ezüstszínű hullámsáv (amely az Eger-patakot szimbolizálja) a mértani középvonaltól kicsit lejjebb helyezkedik el. Az alsó és felső pajzsrész osztása szimmetrikus. A pajzs felső jobb oldali mezője zöld színű, benne egy szarvasbika áll, utalva a település nevének keletkezését magyarázó mondabeli szarvasra. A pajzs felső bal oldali mezője kék (égszínkék) színű, benne a várhegy sziluettje, amely sötétbarna, feketével erezett, tetején, baloldalon a várrom, középen kereszt (mely a vár hovatartozását, a településen élők vallási kötődését jelképezi). A pajzs jobb alsó mezője kék (égszínkék) színű, benne két tölgylevél makkal. A tölgylevél sötétzöld színű, erezett, a makk arany és sötétbarna színű. A pajzs bal alsó mezője zöld színű, benne az 1771-es pecsétnyomó motívumai: az ezüstszínű ekevas és csoroszlya, közöttük aranyszínű, háromágú búzakalász. A pajzs alatt lebegő aranyszínű, fecskefarkú szalagon az ősmagyar rovásírásra emlékeztető betűkkel a 'Szarvaskő' felirat olvasható.


The Coat-of-Arms of the Village of Szarvaskő
(The County of Heves)

The coat of arms of the village of Szarvaskő is a partitioned Renaissance shield erect, enframed argent, its base is curved to a point. Shield is party per fess with a wavy bend argent, a motif, which symbolises the Eger stream. It is located somewhat lower than the geometrical centre of the shield. The fields above and below it are symmetrically located. Dexter chief vert, in which the charge of a stag is borne, is a reference to a mythical stag, the name-giver of the settlement. Sinister chief azure in which the silhouette of the castle hill is borne, is tinctured proper, on the top of it the ruins of Szarvaskő's castle. In the middle the charge of a cross is borne. It is a reference that symbolises the religious faith of the settlement's inhabitants. In dexter base azure two oak leaves are borne, acorned. Oak leaves are veined and tinctured vert, acorned or and dark brown. In sinister base vert the motives of the settlement's seal of 1771 are borne; a ploughshare and a coulter, both argent, between them a three-pointed ear of wheat, or. Below the shield a swallow-tailed ribbon or is borne encouped with the settlement's name SZARVASKŐ inscribed in it in letters, resembling the ancient Hungarian runic marks.