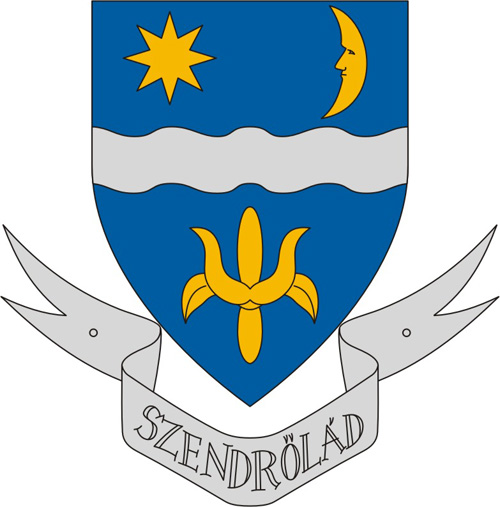 Szendrőlád község címere
(Borsod-Abaúj-Zemplén megye)

Álló, háromszögletű, kék színű katonai pajzs, Középen ezüst hullámpólyával; A pajzs mezejében felül nyolcágú arany csillag és arany holdarc, alul arany nőszirom lebeg. A pajzs alatt egy szalag helyezkedik el SZENDRŐLÁD felirattal.

(A hullámpólya a község határán átfolyó Bódva folyóra utal, míg a csillag és a holdarc, mint a régi pecsét ábrája, az önkormányzat régi voltára.
A nőszirom a község határában lévő természeti értékeket, az ember és környezet viszonyát hangsúlyozza.)


The Coat-of-Arms of the Village of Szendrőlád
(The County of Borsod-Abaúj-Zemplén)

Triangular military shield erect, in fess a wavy bend argent.

In chief an eight-pointed star or as well as the charge of a human-faced moon, also or. In base an iris, or is borne encouped. Below the shield a ribbon is borne with the settlement's name SZENDRŐLÁD inscribed in it.

The wavy bend in the settlement's coat of arms is a reference to the Bódva river, running through the outskirts of the village. The motives of the star and of the human-faced moon refer to the old seal print of the village, thus these charges recall the settlement's history.

The charge of the iris emphasises the natural beauty and the natural resources in and outside the settlement, and it is also a reference to the relatedness of the environment and the local people.