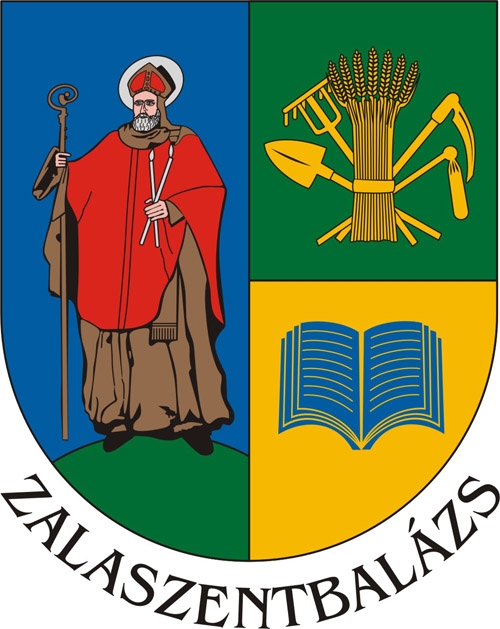 Zalaszentbalázs község címere
(Zala megye)

Az önkormányzat címere: a címerpajzs kékkel hasított, zölddel és arannyal vágott kerektalpú pajzs.
Első mezejében zöld halmon Szent Balázs püspök, jobb kezében pásztorbot, bal kezében kettő, keresztbetett égő gyertya látható.
Második zöld mezejében lebegő álló gabonakéve középen átkötve. Mögötte keresztbetett, alul ásó és csép, felül gereblye és kasza.
Harmadik, arany mezejében, lebegő kék nyitott könyv.
A pajzs alatt, fekete betűkkel lebegő "ZALASZENTBALÁZS" felirat szerepel.


The Coat-of-Arms of the Village of Zalaszentbalázs
(The County of Zala)

The settlement's coat of arms can be described as follows:
Shield erect, party per pale azure, party per fess vert and or. Base is rounded.
In field one on a mound vert the figure of bishop St. Valentine is borne. In his dexter hand he is holding a crook, in the sinister two burning candles, borne crosswise.
In field two in field vert a sheaf of wheat is borne encouped and bound in the middle. Behind it a spade and a thrasher, above a scythe and a rake, all of which are borne crosswise.
In field three and or an open book, azure is borne encouped.
Below the shield the settlement's name is borne encouped and inscribed in letters sable.